[Chorus]
---------------------------------------------
Ab Db
Bonda meedum kandurelle
Eb Ab
Surangana raja dahane
Eb
Obe sina kandulu bidak
Ab Db Eb Ab
Hetath wasana hetath wasanaa
Ab Db
Sihina nadee nala realle
Eb Ab
Pathum ruwan ran oruwe
Eb Ab
Obe nimala nidra gee matath
Db Eb Ab
Wasana matath wasanawan


[Verse 1]
----------------------------------------------
Ab Db Eb Db Ab
Sithaka thawul sansidila mitiyawatha mal isila
Db Eb
Mal warusa suwanda samaya matath wasana
Eb7 Ab
Hetath wasana...
Ab Db Eb
Rehayiyange nonim naada sawul kowul
Db Ab
Wihanga geetha,
Db Eb
Apata arunu hudakalaawa hetath wasana
Eb7 Ab
Hetath wasanawan


[Verse 2]
--------------------------------------------
Ab Eb
Maala hathak paladannata heena hathak
Ab
Eli wannata,
G#m Ab Db
Dolos mahe pahan eliya matath wasana
Eb Ab
Matath wasanawan
Eb
Anagathaya kirulu dara depa mulata
Ab
Wadina thura
G#m Ab Db
Lawan pongana miyuru thepul hetath wasana
Eb Ab
Hetath wasanawan
Save this song to your Favorite?
Sign up or login. It takes less than 20 seconds to create an account with us.
---
Bonda Meedum Kandurelle Lyrics:
---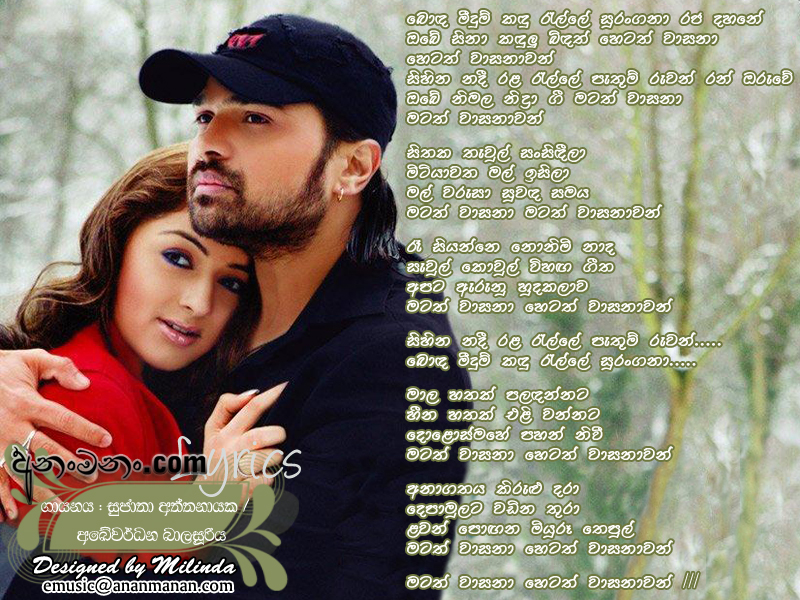 Image credits to the original owner. We index images automatically. If you see something wrong, please email us info@chordlanka.com.
---
Abewardana Balasooriya 13 more guitar chords found:
---
Last Played on 06/06/2023 05:02 | 1396 times played.
Advertisement:
---