[Chorus]
-------------------------------------------
C Dm C Dm
Oba apple malak wage, lassana wasantha kale
C Em C
Mata hadissiyen wage hamuwu
C Em F
Payanna deasa mane, unuhumata ginadari
C Em F
Geniyanna maage gaane me hithama sundari
G Em
Digu dease bealma obage
F G7
ai sonduru oya hati


[Verse 1]
-------------------------------------------
C Em Dm
As piyen adi keali kepena ralu raathriye
C Em Dm
Keeri gehena sitha anu has ayadi preamaye
Am C G/G7
Eya pamanak nam sheshaya weenam purwathmaye
C Dm
Moba gewesena ma sitha awanithai
Em F
Awanatha nethi hithatada awiwekai
G Am G7
Huda kalawa awanaduwak geanu lamayo....


[Verse 2]
-------------------------------------------
C Em Dm
Iti roope apuruwa widinna mama hari asai
C Em Dm
Pinthure wage oba hinehenakoata mata lobai
Am C G/G7
Ahithak hithenne nethinam mama hari adarei
C Dm
Kiya ganna beri kamen hitha barai
Em F
Iye adamen hetath ehema wei
G Am G7
Huda kalawa awanadauwak geanu lamayo...
Save this song to your Favorite?
Sign up or login. It takes less than 20 seconds to create an account with us.
---
Oba Apple Malak Wage Lyrics:
---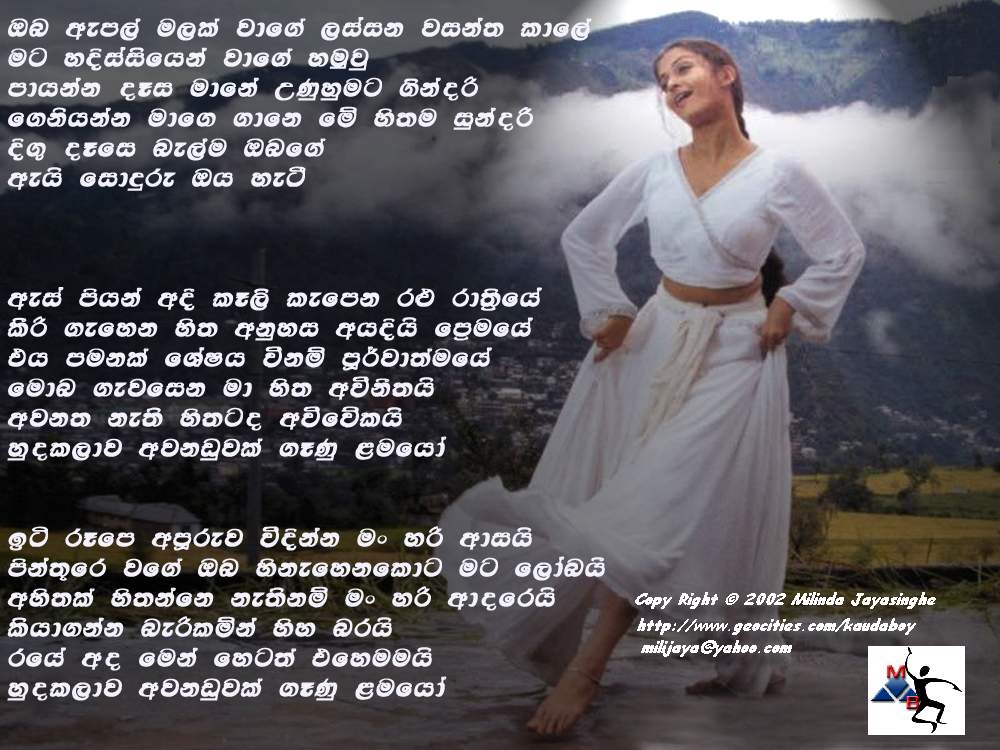 Image credits to the original owner. We index images automatically. If you see something wrong, please email us info@chordlanka.com.
---
Amarasiri Peiris 30 more guitar chords found:
---
Last Played on 05/06/2023 13:06 | 3285 times played.
Advertisement:
---