[Chorus]
-----------------------------------
         Am
Awasaana mohotha maage
         G
Porakaya deasa maane
       Dm7     G
Penewi roope obage 
          Am
Mewi mewi maage amme
F         Am
Denei obe suwanda amme //

[Verse 1]
-----------------------------------
A           G           
 Podi kaale weedi athare
F          A/Am
Sewwa kiri suwanda amme
A         G
E suwanda deneela paare
F           Am
Mada wathura beewa 
       G        A
Galana le kiri une
       G        F
Nomethido obe laye
     G          Am
Maa obe puthu noweda amme
F            Am
 Obe puthu noweda amme

[Verse 2]
-----------------------------------
A          G
 Me kroora loka thalaye
F             A
Nominisun samagin...... asure
           G     
Gewu nisai maage jeewe
F        A             G           A
 Melesin andure madu hithin math wela
      G        F
Kelesuwa minimara...
      G       Am
Gelawila enna ba ne amme..
F      Am
Anduruwelaa mage loke...

Save this song to your Favorite?
Sign up or login. It takes less than 20 seconds to create an account with us.
---
Awasana Mohotha Mage (Cover Version) Lyrics:
---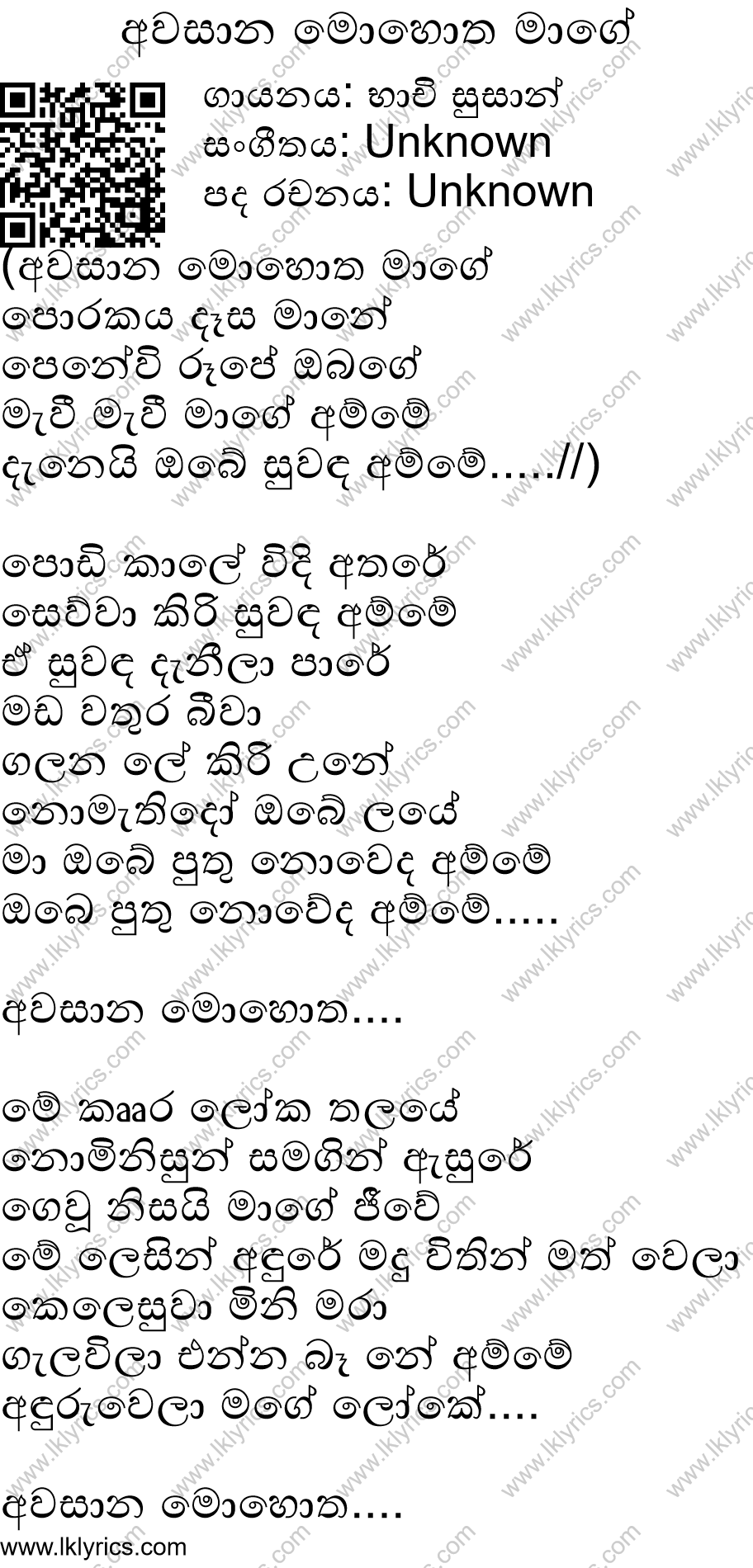 Image credits to the original owner. We index images automatically. If you see something wrong, please email us info@chordlanka.com.
---
Bachi Susan 14 more guitar chords found:
---
Last Played on 31/03/2023 18:58 | 1367 times played.
Advertisement:
---