[Chorus]
----------------------------------------------
Em              B
Me sanda unath, paya awith
Em       E         Am
Issara wage  eliya dunna unath
C              G
Me hulangamath aayeth awith
D            B         Em     E
Numba hiddi duk sislia dunna unath
     Am                     B7
Pera hemadema numba nathiwa lebuna wunath
   Am                     B7
Me eka rata numba nathiwa thawena deneth
     C        Am     
Heta ena rata numba nathiwa 
F            D      B
kelesaka nam iwasam do..

Em      Am  D             G 
Me gewenne  awasan rayama we
C  Am  B        C     D     G
Aaaye  nam .... raya awasan we...

[Verse]
----------------------------------------------
     Em                Am
Aaye hiru na heta hulangath na
      D             G  
Numba awath me raya na
     Am                F
Aaye numba na duk kanduluth na
     D           B
Raya aawath mama na..

Save this song to your Favorite?
Sign up or login. It takes less than 20 seconds to create an account with us.
---
Me Sanda Unath (Cover Version) Lyrics:
---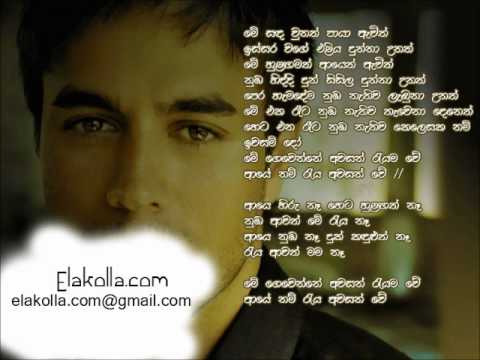 Image credits to the original owner. We index images automatically. If you see something wrong, please email us info@chordlanka.com.
---
Buddika Ushan 2 more guitar chords found:
---
Last Played on 01/10/2023 08:38 | 380 times played.
Advertisement:
---