[Intro]
-----------------------------------
Gm 

|Gm  |-   |Eb  |-  |
|F   |-   |Gm  |-  |
|Gm  |F   |Gm  |-  |
|Gm  |F   |Gm  |-  |

[Chorus]
-----------------------------------
Gm
Suruvama aine punchi pale
     F                Gm
Mage natthala lan wenawa

Seethala aragena pini wehi ekkara
F                 Gm
Muhudath ralu wenawa
Eb 
aluth andum mata mukuth epa
F
Appawa sihi wenawa
Gm                           F
Adawath innako maalu epa iti pandama
        Gm
Diya wenawa

[Verse 1]
-----------------------------------
Gm 
Hulan adenakota muhuda dige
Bb                Eb
Pela athulata wenawa
F
Ammath ekkala hemin sere man
               Gm
orosan kiyawanawa
Gm
Lassana lassana seda walawo
Bb              Eb
Nagareta paawenawa
F
Samidun mata thani tharuwak ewwada
Gm
Pel patha bebalenawa

[Verse 2]
-----------------------------------
Gm
Bada ginnath mata denenne na 
Bb             Eb
Me naththal kaale
F
Werale waadi wi muhuda diha man balanawa
     Gm
Hema waare
                               Bb          Eb
Samidu pudannata iti pandam na ekai man naawe
F
Appa apuwama mama palli ennam
Gm
Ahanna gee naadee



Save this song to your Favorite?
Sign up or login. It takes less than 20 seconds to create an account with us.
---
Suruvama Aine Punchi Pale Lyrics:
---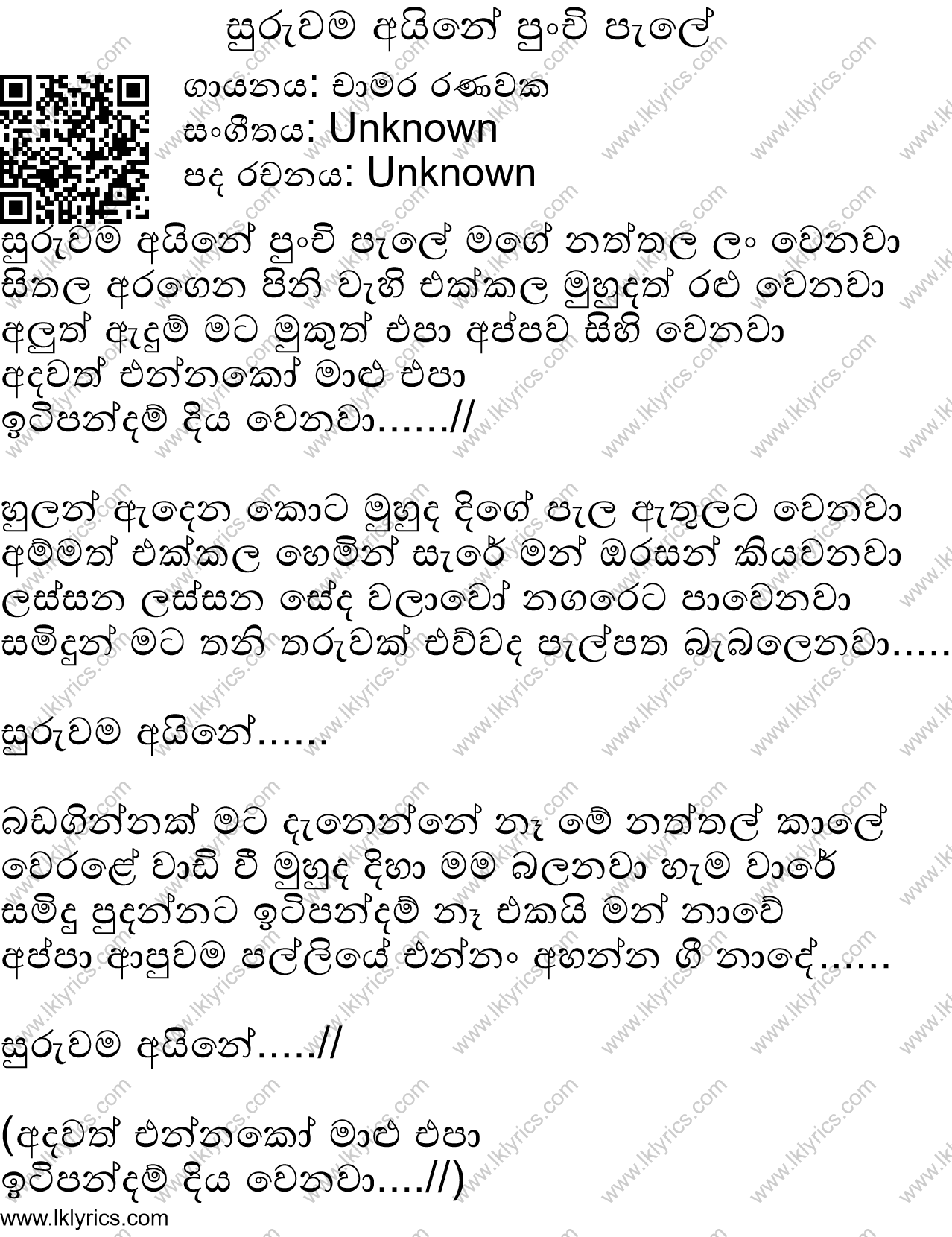 Image credits to the original owner. We index images automatically. If you see something wrong, please email us info@chordlanka.com.
---
Chamara Ranawaka 4 more guitar chords found:
---
Last Played on 01/06/2023 17:52 | 1943 times played.
Advertisement:
---