Chord Diagrams for 'Nage Naganna Mal Sina' song:

[Intro/Inter]
-----
| D  | -  | Em |  - |
| A  | -  | D  |  - |
| A  | -  | -  |  Bm|
| A  | -  | -  |  D |

[Chorus]
-----
  Esus     A           D
Nage..   naganna mal sina
  A                D          
hade pipenna mal latha
A    
jeevithe puraama aadare sora ganie
                       D
obe yovun viye yovun katha
  Esus     A          D
sina..   naganne kaatadoo
  A                  D          
hithe thiyenne monawadoo
A    
heanadaama mea wagema ei udeasanea
                    D
onadoo magen sene bidak..

[1st Verse]
-----
A                   D 
paasaledi ei dage mese,
G          A          D
paaredee mokakda me rage..//
Bm
mal kumaariyak wage manaaliyak wage,
Bm
jeevithe yovun viye supem regum salai..

[2nd Verse]
-----
A                   D 
aadareata man bayai ane,
G          A          D
thaama owa purudu nea wagea..//
Bm
ennakoo pudannakoo obe yovun sene,
Bm
aadare labannako mage yovun hade..

---
18 more songs by Chandralekha Perera:
---
Nage Naganna Mal Sina Lyrics: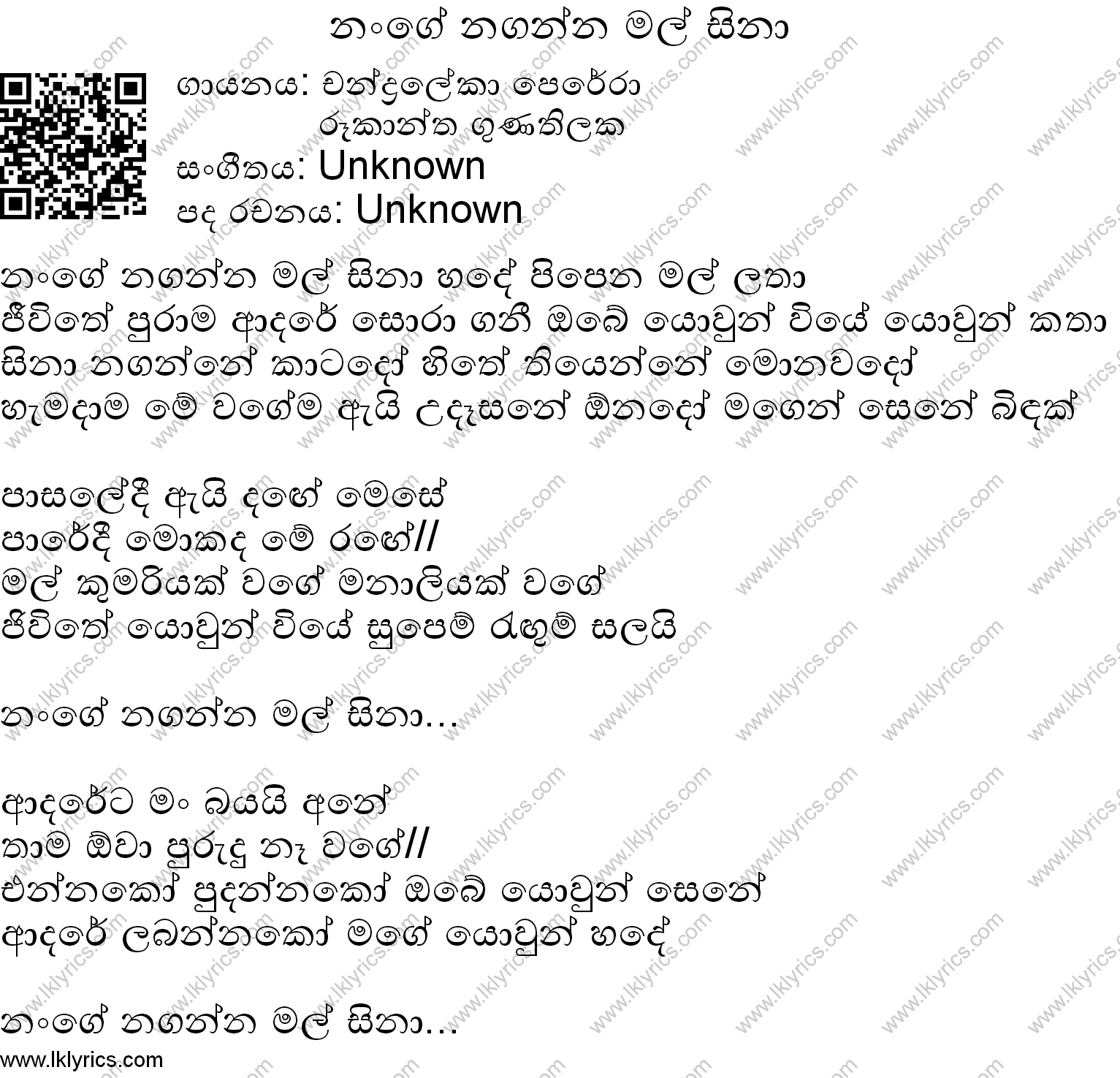 Image credits to the original owner. We index images automatically. If you see something wrong, please email us info@chordlanka.com.
---
---
Try our top 10 most played songs:
View More....
---
Try our top favorite songs: