[Intro]
-----------------------------------
Gsus2  Em7  Cadd9  Dsus2

[Song]
-----------------------------------
G     Em       C            D
Adare pawasala aadare namin diwurala
G        C        D       G (Em)
Nokiyama nokiyama yanna giya...
G      Em            C
Aadare kii katha ada goluwela
    D          G         C
Ada golu wela, nokiyama nokiyama
D       G
Yanna giya...
C     D            G  F#m  Em  
Haa....... yanna giya.....
D    C   D         G
Haaa...... yanna giya.....

G             Em               C             D
Na hina winda kaalayak hithata a namin miyaduna
G            Em               C             D
A gena heena seetha irthuwaka meedumen pataluna
C               D              B                  G5
Eyathudin prema hadapura mawunu sithuwamak bonda una
C             D                Cm               G
Aadare penunu hitha pura gethu thani pawa miyeduna


G            Em           C           D
Wedana kanda aadare usata akaheth gawuna
G           Em             C                  D
Akahe indan neela dewduwak thun hithata lan wuna
C                 D                B            G5
Thun hithin winda soka duk kandulu e athin pisa dama
C             D               Cm              G
Aadare namata geethayak aluth thanuwakin liyauna

Gmaj7   G 
Back to Chorus

Save this song to your Favorite?
Sign up or login. It takes less than 20 seconds to create an account with us.
---
Adare Pawasala Lyrics:
---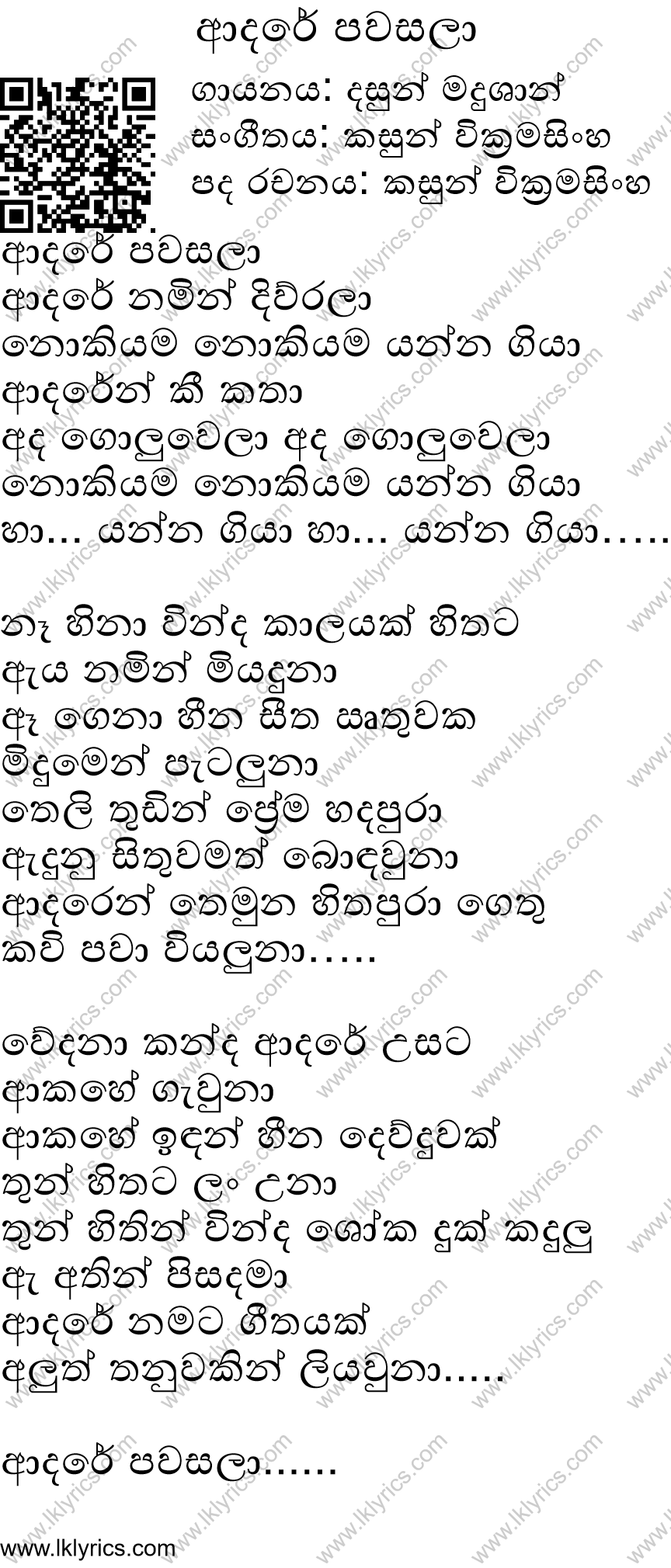 Image credits to the original owner. We index images automatically. If you see something wrong, please email us info@chordlanka.com.
---
Dasun Shanaka 1 more guitar chords found:
---
Last Played on 11/08/2020 15:16 | 712 times played.
Advertisement:
---