[Chorus]
--------------------------------------------------
G D G
Mathakayan amathaka keruwath
D G
Amathaka wenne na
C Bm Am D D7 G
Oba epa yai mata sithunath, epa wenne na..
G D G D G
Yali ewi yai, sitha keewath, oba yali enne na
C Bm Am
Sitha pura aadare karannata
D D7 G
Mata den kauruth na..



[Verse 1]
--------------------------------------------------
F Am C D D7 G
Anda andaaa mama kal gewwath oba lebenne na
C Bm Am D D7 G
Nolebena bawa mama kiwwath, sitha piliganneth na
F C D D7 G
Mama nomethi lowa kawadawath, oba thani wen na
C Bm Am D G
Oba nomethi lowa kawadawath mata sithe sathutak na


[Verse 1]
--------------------------------------------------
F C D D7 G
Sihiwena hema mohothokadi nositha innath ba
C Bm Am D G
Hudakalawe innata sithuwath, ehema innath ba
F C
Sitha sithaa oba gena hemadamath,
D D7 G C
Mata adannath ba, oba nethi paaluwa
Bm Am D D7 G
Mata denunath wenas wennath ba

Save this song to your Favorite?
Sign up or login. It takes less than 20 seconds to create an account with us.
---
Mathakayan Amathaka Keruwath Lyrics:
---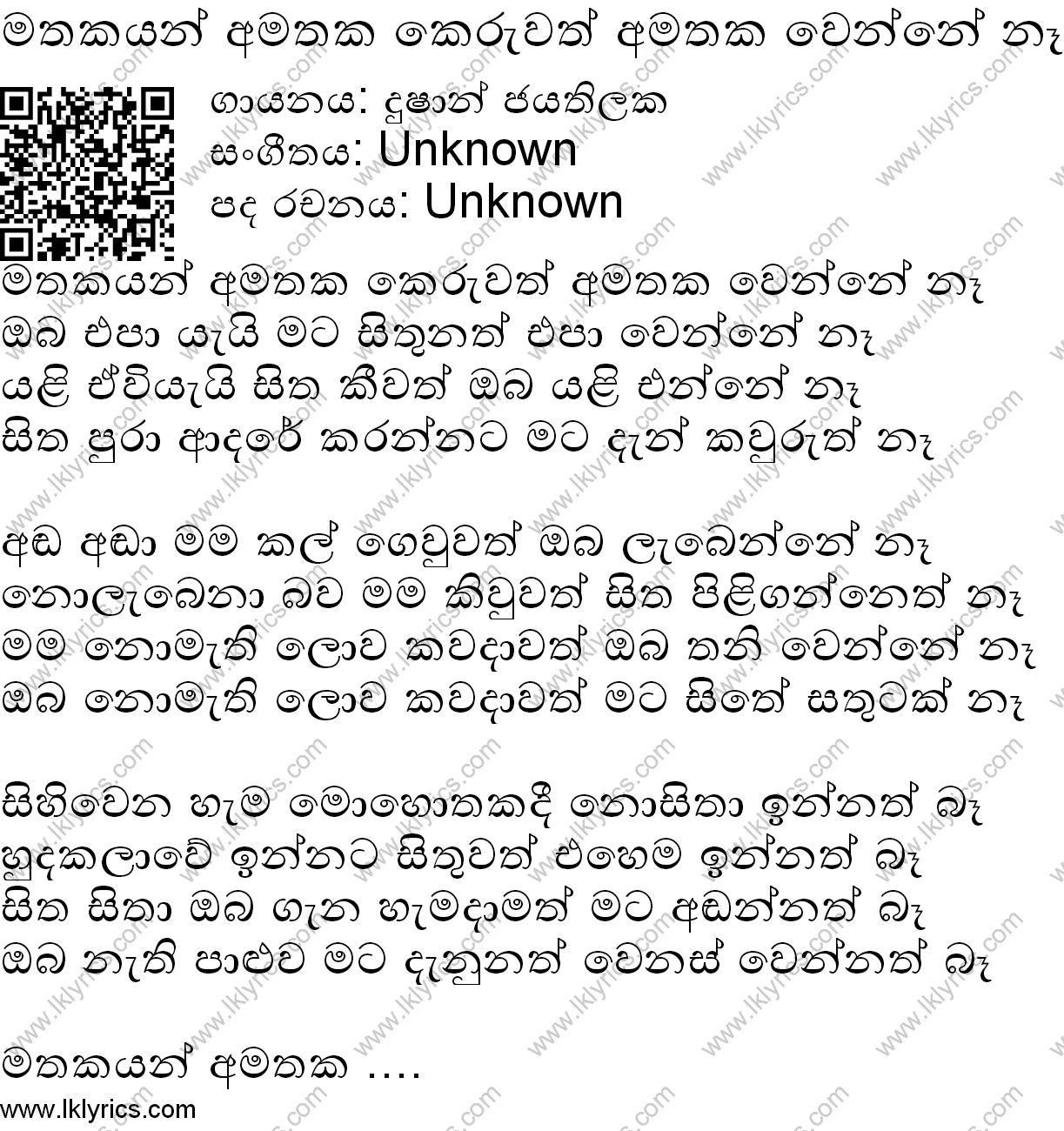 Image credits to the original owner. We index images automatically. If you see something wrong, please email us info@chordlanka.com.
---
Dushan Jayathilake 5 more guitar chords found:
---
Last Played on 05/12/2020 10:11 | 81 times played.
Advertisement:
---