[Intro]
---------------------------------------
|Fm |- | - |- |
|Fm |- |Eb |- |
|C# |- |Fm |- |
[Chorus]
---------------------------------------
Fm Eb C#
Abhisarikawange - unmaada nethu athare
Fm Eb C# Fm
ayale giya jeewithe-obeni pana lebuwe

[Inter]
---------------------------------------
|Fm |- |Bbm |- |
|Eb |- |Fm |- |
|Eb |- |C# |- |
|Fm |- |- |- |

[Verse 1]
---------------------------------------
Fm Eb
Raaga gini jaalawe- Premaye unusum susume
Fm Eb
Wenasa obeni denune....
Fm Eb C# Fm
ayale giya jeewithe-obeni pana lebuwe

[Inter]
---------------------------------------
|Fm |- |Bbm |- |
|Eb |- |Fm |- |
|Eb |- |C# |- |
|Fm |- |- |- |
[Verse 2]
---------------------------------------
Fm Eb
Adaraya yana wadane - Manulowe minisath bawaye
Fm Eb
Mahima obeni denune....
Fm Eb C# Fm
ayale giya jeewithe-obeni pana lebuwe
Save this song to your Favorite?
Sign up or login. It takes less than 20 seconds to create an account with us.
---
Abhisarikawange Lyrics:
---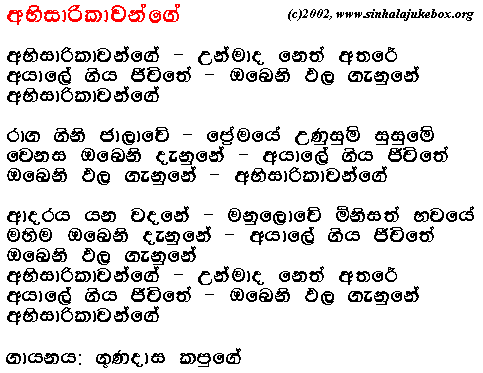 Image credits to the original owner. We index images automatically. If you see something wrong, please email us info@chordlanka.com.
---
Gunadasa Kapuge 28 more guitar chords found:
---
Last Played on 02/10/2022 05:36 | 489 times played.
Advertisement:
---