Chord Diagrams for 'Rathu Ratakaju' song:
[Intro]
-----------------
[| F | - | Eb | Bb |
| F | - | ] Repeat

| F | - | Cm | Gm |
| F |

[Verse 1]
-----------------
F Eb
Rathu ratakaju sudu ratakaju ekata uyala
F Cm
Rathu cheeththa dejathiyen gaumak mahala
Eb F
Samara aiyage sarame samara gewila
Eb F
Ewa ane hoda ganna wathura madi wela
Eb
Chooti teacher ge torch eke batteriya bahala
F Cm
Ala loriyai lunu loriyai ekata perarila
Eb F
Kehel wattharin tharangeta baila ahenawa
Eb Gm F
Kibula banis wage ewa negalama yanawa

[Chorus]
-----------------
F Eb
Rampeta pori helei, del gahe pol hedei
F Cm
Dompeta hari durai, viyadam kotiyai
Eb Gm F
Del kanda polen gena honda kiri aluwa
F Eb F
waage Sindu gotha kiyala beluwa
F Eb F
Mewage sindu gotha kiyala beluwa

[Verse 2]
-----------------
F Eb
Engalanthe maha rejinata baila kiyanawa
F Cm
William kumaruta dolekki gahamu kiyanawa
Eb F
Aana maalu aran gihin beckham ta denawa
Eb F
London wala paare medde kokis badinawa
F Eb
Saree gappi aran gihin saree mahanawa
F Cm
White house kuliyata gena kade danawa
Eb F
Saree kade weda karanna maduri genawa
Eb F
Athu gaanta sharukh hata enna kiyanawa

[Verse 3]
-----------------
F Eb
Chakde lanka kiyala kodiya wananawa
F Cm
Chuck norris aran awith tokuth ainawa
Eb F
Chuck allana umpire la meheta genawa
Eb F
As athule wangu weddo hoyala balanawa
F Eb
Lokanthaya balanna mama thaniyema yanawa
F Cm
Paata paata kola aragena rocket hadanawa
Eb F
Rocket yawala balangodadi ekathu karanawa
Eb F
Kawada hari sinha kodiya hande gahanawa...
---
11 more songs by Lahiru Perera:
---
Rathu Ratakaju Lyrics: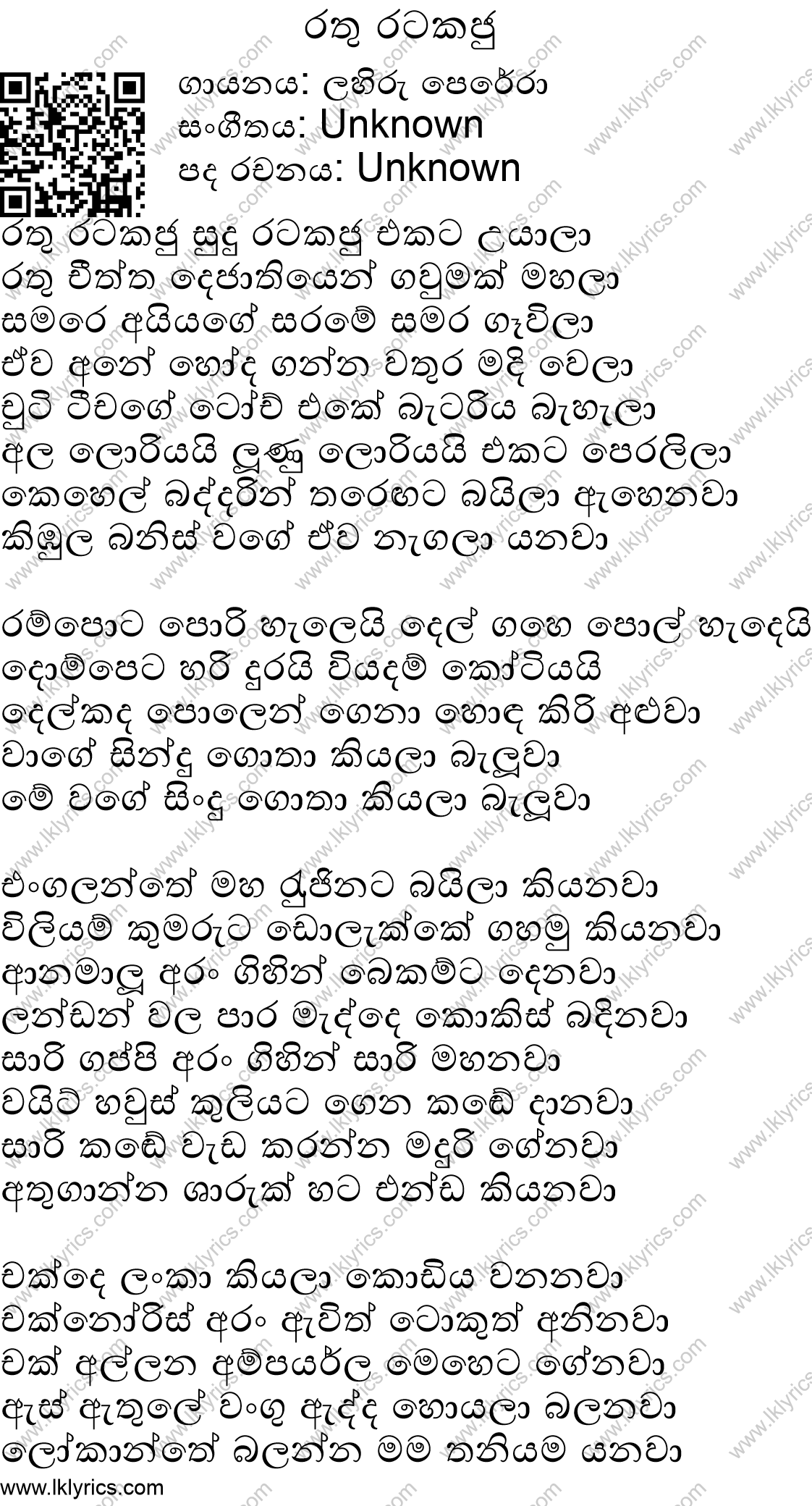 Image credits to the original owner. We index images automatically. If you see something wrong, please email us info@chordlanka.com.
---
---
Try our top 10 most played songs:
View More....
---
Try our top favorite songs: