[Chorus]
-------------------------------------------
Am F Am
Sihina Paradeesaye
G
Siti eda ma paluwee
Am G C F Am
Obi mage dasa wage yavune ree diwa
E Am
Jeevithe samada

[Inter]
-------------------------------------------
Am
/--C-
F
-A--/--C-/-F--/----
Dm G
D-E-/FG-A/AB--/--C-
F E
-F--/--EFED/E---/----
Am
E-Ab-/AB-C/A----/----
[Verse 1]
-------------------------------------------
Am F C G
maruthe sali noye Aadare ama suwe
F E Am
lokaye chodana nasena thura
E F G
sitha paluwe nothaba mage jeevithe mawathe
F E Am
tharuka wage naa nivi giye chethana hade

[ Verse 2]
-------------------------------------------
Am F C G
sagare hapi bidi Aatha pauna rali
F E Am
Aa wage adare na bidi mage
E F G
sarana thura nosali sada Ma pathu adare
F E Am
Maa obemavee wasana gene samada lowe

Save this song to your Favorite?
Sign up or login. It takes less than 20 seconds to create an account with us.
---
Sihina Paradeesaye Lyrics:
---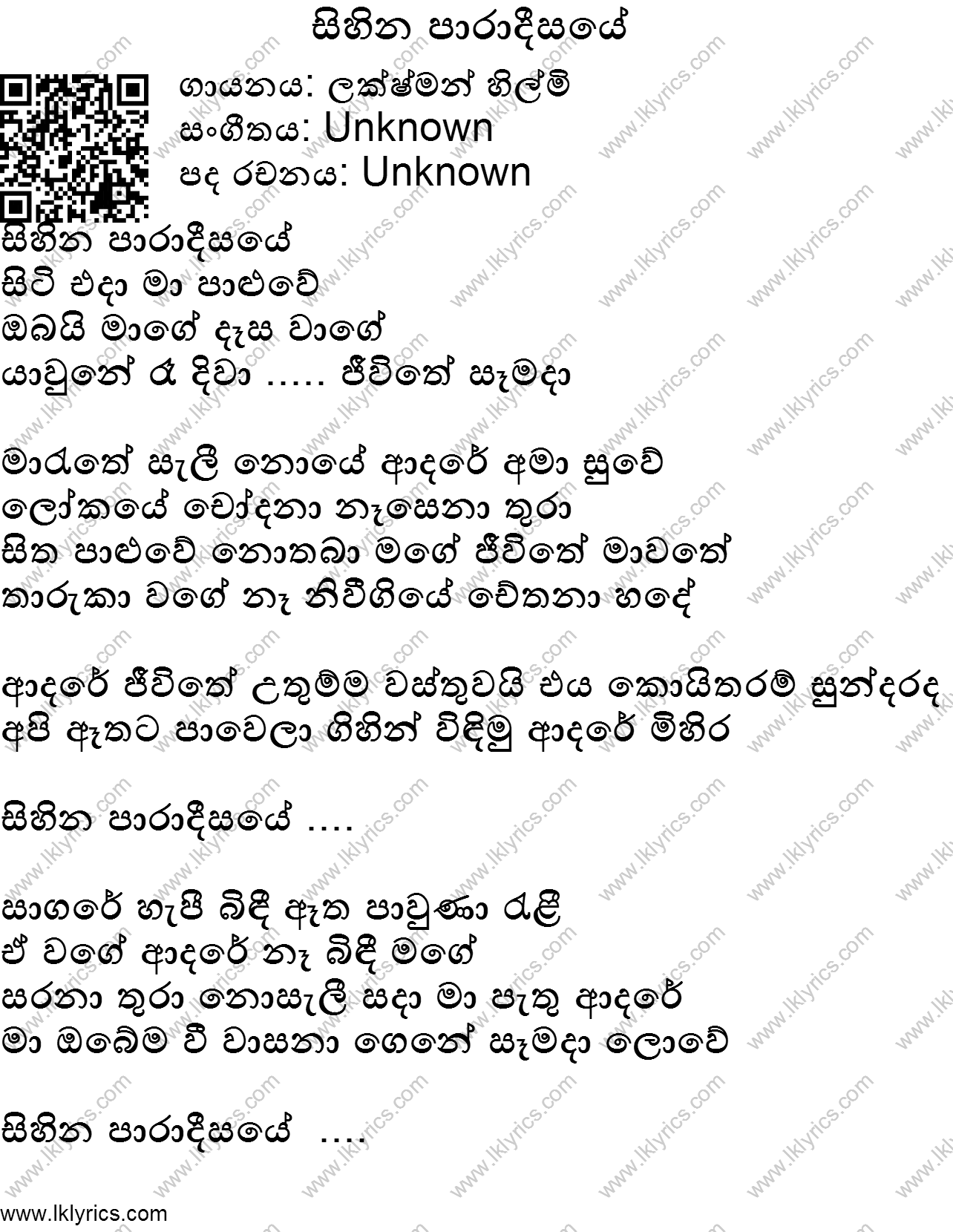 Image credits to the original owner. We index images automatically. If you see something wrong, please email us info@chordlanka.com.
---
Lakshman Hilmi 5 more guitar chords found:
---
Last Played on 30/09/2023 12:02 | 423 times played.
Advertisement:
---