Capo 3

[[ Em  | D  | C  | D  ]]

[Chorus]
---------------------------
Em	   D		  Em
thahanam malak hitha ha bandi
	D	    G
mayim bindi mage lowe...
	Am		C
mathu da.... hith parunath
      Am
oba patha
C	D	Em
hitha perum purana
C	D	Em
 ohhh woo hoo

[Em  | D  | Em  | D  |
 Em  | D  | C   | D  |]

[Verse 1]
-----------------------
Em		D
mage laye ethi ethi
C	D	Em
raye thani makuwa
Em		D
heta nathath oba himi lowak
C	D	Em
obama sitha pathuwa
C		D
kandulak nathi loke
Bm	    Em
obe sina randena
C		D
oba na langa mage
Bm
thani wela ma sada
C	D	Em
ohh woo hoo

[Verse 2]
-----------------------
Em		D
obe susum huru dethol ada
C	D	Em
seethalen welila
Em		D
obe nuwan heta ohu lowe 
C	D	Em
hiri kirana wenawa
C		D
oba nathi santhape
Bm	    Em
uhulagannata ba
C		D
thawamath nethu mage
Bm
magabalai enathura obayalith
C	D	Em
ohh woo hoo

Save this song to your Favorite?
Sign up or login. It takes less than 20 seconds to create an account with us.
---
Thahanam Malak Lyrics:
---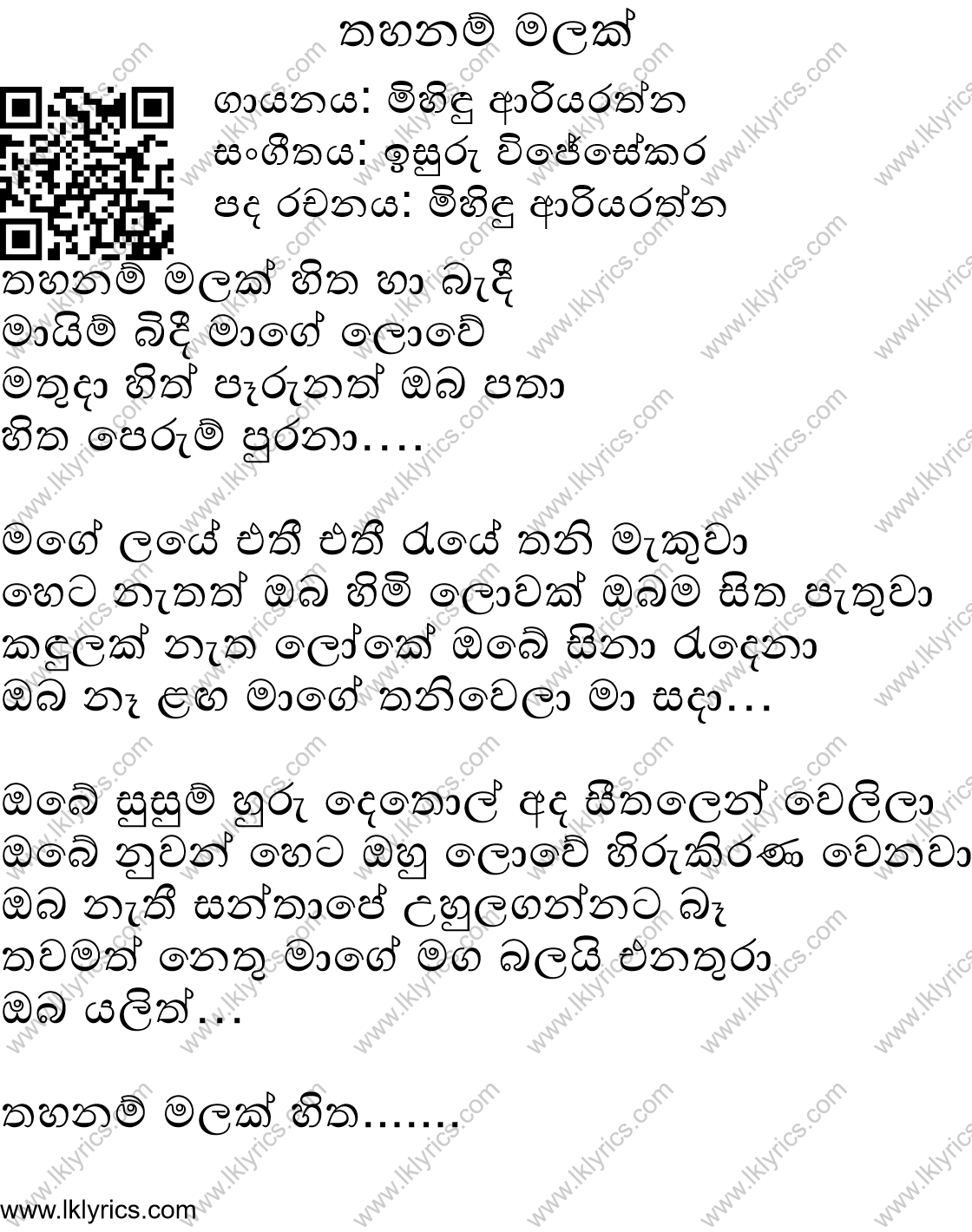 Image credits to the original owner. We index images automatically. If you see something wrong, please email us info@chordlanka.com.
---
Mihindu Ariyaratne 5 more guitar chords found:
---
Last Played on 30/09/2023 13:47 | 150 times played.
Advertisement:
---