Chord Diagrams for 'Yayata Payana' song:
[Intro]
---------------
G | Bm | C | Am |
D | G | Bm| C |
Am| D |

[Verse 1]
---------------
G
Yayata payana poda sanda
Bm
Thetha berena pini doraka
C
Hitha parana me ma duka
Bm Am
Sepase vinda
G
Heta rea wela elivena sanda
Bm
Hitha haarana maha paaluwa
C
Nuba gannawanam apita
Bm Am
yanawa kenda


[Chorus]
----------------
Em Bm C D
Vehenna ma indahita e sande andila
Em Bm C D7
Sehennam ma numbage as pura rendila


[Verse 2]
---------------
G Bm C D
Thani paledi thaniwa uragea rea ganan balala
G Bm C D
Awelawaka peayu tharuwe pea belum hinda
Em Bm C D
Thani aetha se hithin hithapu malwiye arumee
Em Bm C D D7
Numba nisawen hithe pirunu aalayen bandune..


[Verse 3]
---------------
G Bm C D
Tharu ganiddi nubama penwu heenaye gilila
G Bm C D
Seapata iddi pathum serama kaluware vinda
Em Bm C D
Mal bisove memata dunnu sathuta yali gattha
Em Bm C D D7
Nuba patha man eka sithin pidu jiwithe mearuna
---
5 more songs by Natasha Perera:
---
Yayata Payana Lyrics: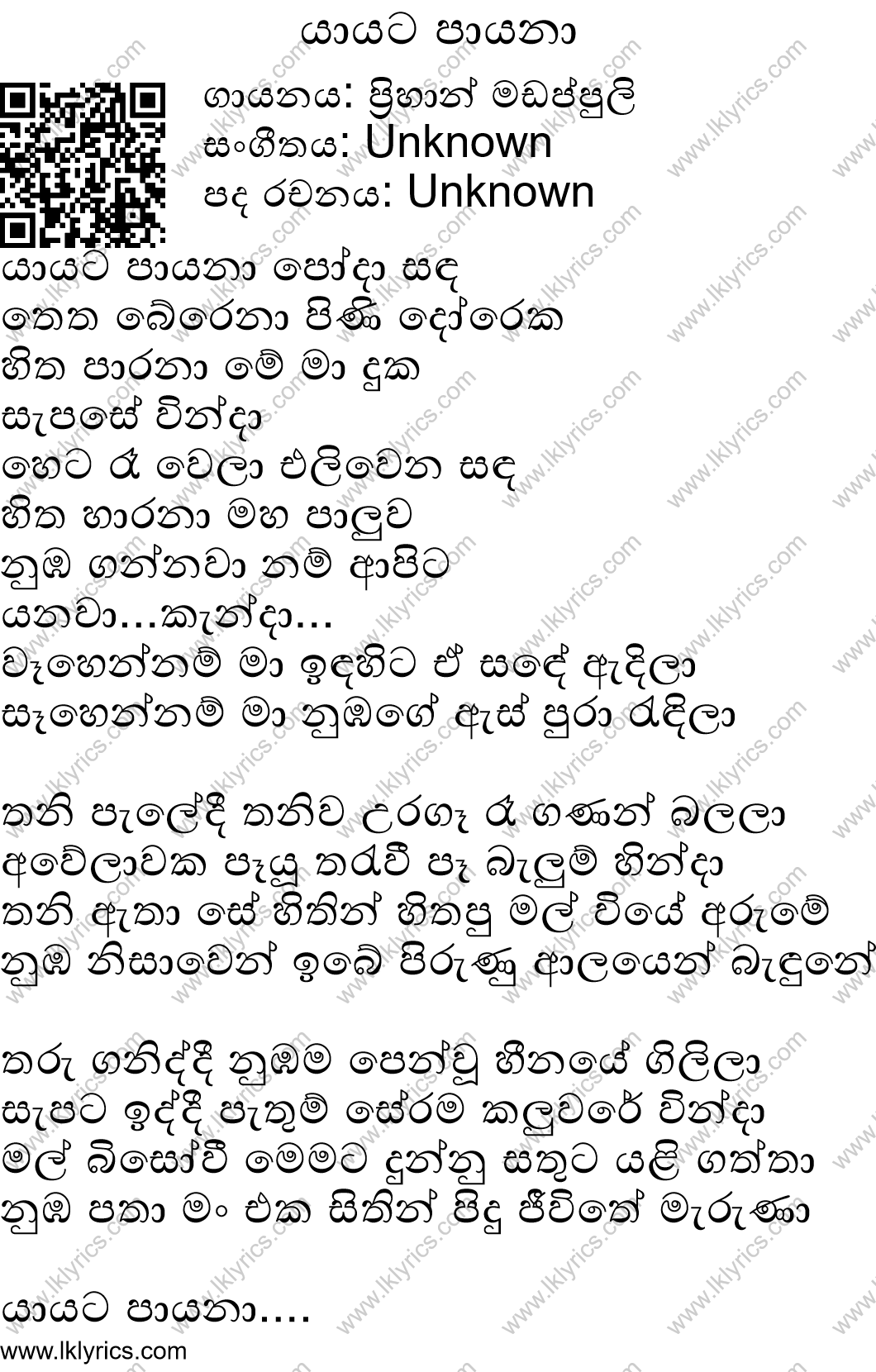 Image credits to the original owner. We index images automatically. If you see something wrong, please email us info@chordlanka.com.
---
---
Try our top 10 most played songs:
View More....
---
Try our top favorite songs: