Chord Diagrams for 'Ma Ahase Liyu De' song:
[Intro]
---------------------
Gm | F | Eb | F
Gm | F | Eb | F
Bb | - | Cm | F
Eb | F | Dm | Gm

Eb | F | - | Gm
Eb | F | Dm |


[Chorus]
----------------------
Gm F Eb F
Maa ahase liyu de, penune numbata witharamai
Gm F Eb F
Maa sulagata kiyu de, ahuwe kawuda numba thamai
Bb Cm F
Ehewu nubata nodenune, numbata dunna hitha thamai
Eb F Gm
Mage kiya, mata thibune, e eka hitha witharamai
Eb F
witharamai ee witharamai
Gm
E eka hitha witharamai,
Eb F Dm Gm
witharamai ee witharamai.....



[Verse 1]
------------------------
Gm F Gm F Dm F
Prarthana maha kande, kaluwara paamula unne man
Eb F Gm Cm F Eb F Gm
Numbe nura tharu eliye, kandu mudunata gena nogiya nam
Gm F Gm F Gm Cm
Adath maa hindiwi, thawath numba pathawi
Cm Dm Eb
Numba genama hitha hithaa innata,
F Gm
Hithawath mata thiyewi....
---
16 more songs by Shashika Nisansala:
---
Ma Ahase Liyu De Lyrics: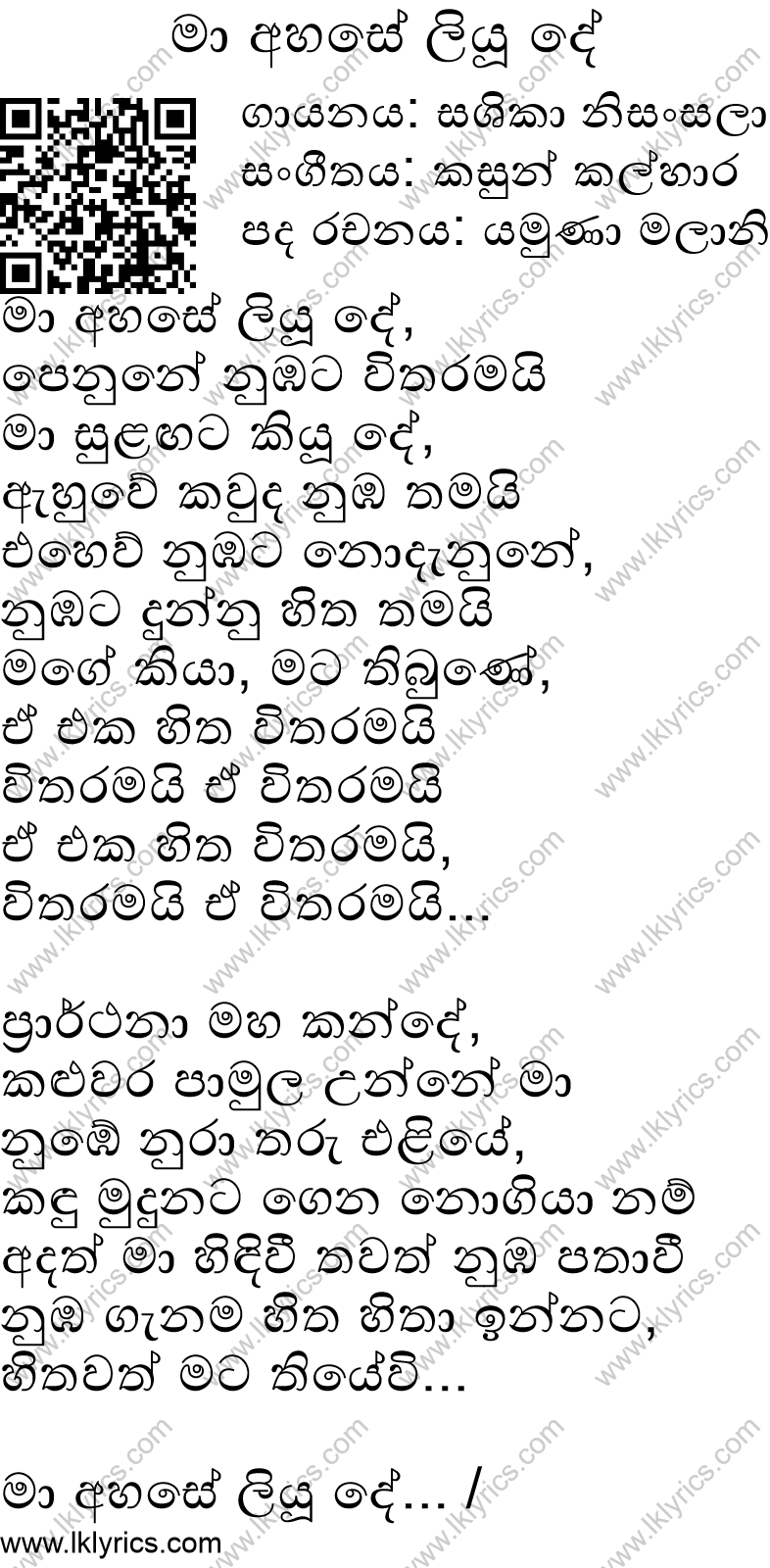 Image credits to the original owner. We index images automatically. If you see something wrong, please email us info@chordlanka.com.
---
---
Try our top 10 most played songs:
View More....
---
Try our top favorite songs: