Am                 G
himi nowena baw ma dana sitiyanam sodure
F          E                Am
kisida naa ma oba ahata lan wenne
                      G
a sundara athithe naa kawadawath aye
F         E          Am   
obamai maage loken sagawa giye
C                        Dm
kawadawath daka naa - pera obe ruwa ada wage
G                                E
sudu gaumin sarasi oba  dew  mandire
C                            Dm
manaliyak wee oba ada sura dewliyak wage
G                      Am
aai ma daka oba iwatha bala giye



Am                                  F
thawamath mama adarei - soduriye adarei
      G              E             Am  
me tharam dukak - ai maa hata oba dunne //



Am                                G
mathakada maa soduriye apa sithu apa mauw a loke
F              E              Am
mama sitiya manalaya wee oba asale
                                G
ada lan wee thibunath oba hata apa pathu a sihine
F              E                   Am  
mama naa oba asalin oba wenekuge daathe
C                            Dm
perada oba pawasuwe mama obe jeewithe kiyala
G                          E
therum nohage ada ohu damu ran muduwe
C                            Dm
hamadamath mage thurule bawa diura oba kiwe
G                         Am
kelesada oba maa desawan nobala yanne


Am                                F
a hinda kumariye - mage sitha wedana
          G             E                 Am        
oba yali kawadawath naa - maa hata himi wanne
Am                           F                 
lan wee api wen wela - ow ada wen una
        G           E                 Am
maage hada parai - obagen lada me thiline

Save this song to your Favorite?
Sign up or login. It takes less than 20 seconds to create an account with us.
---
Himi Nowena Baw Lyrics:
---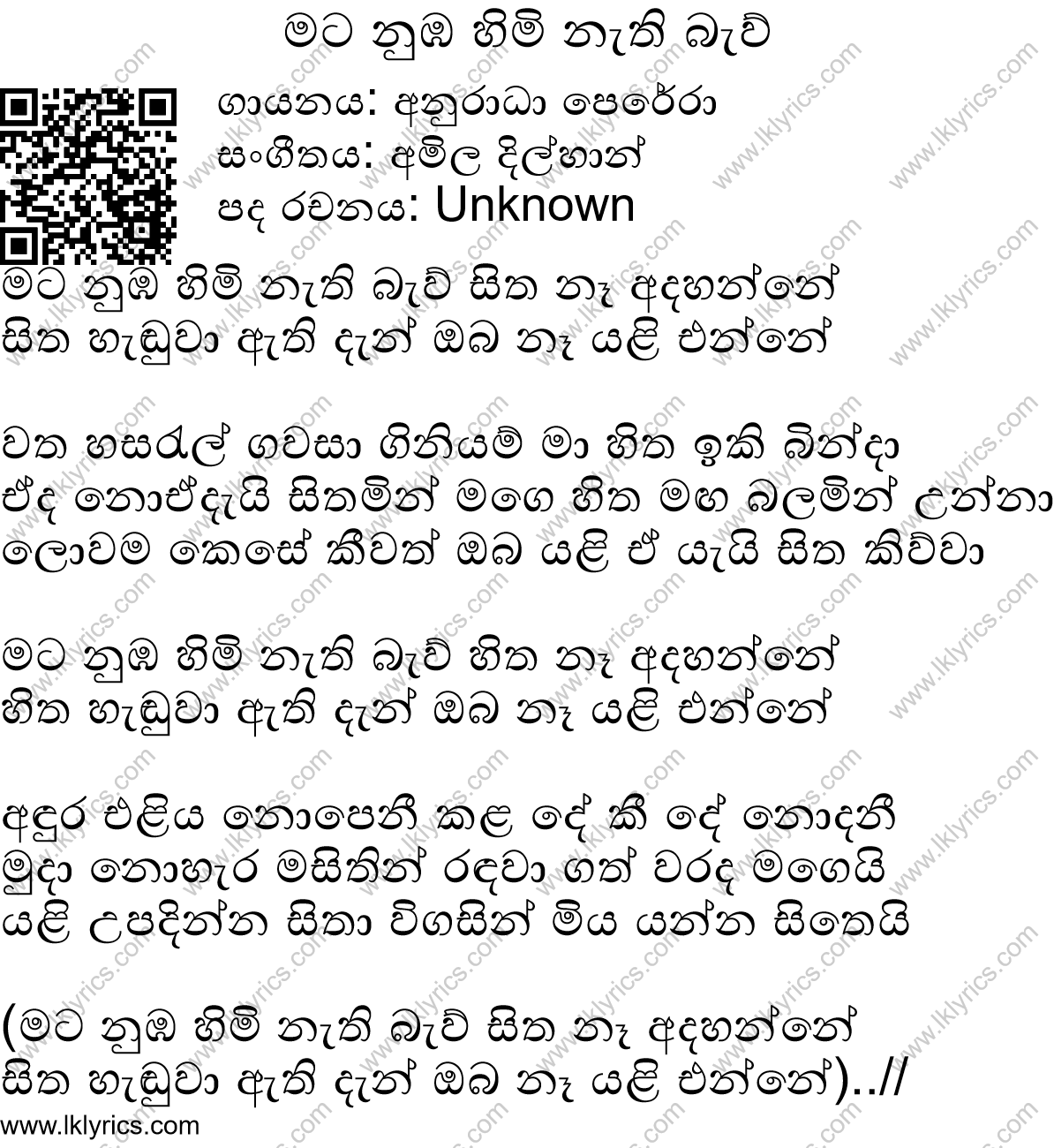 Image credits to the original owner. We index images automatically. If you see something wrong, please email us info@chordlanka.com.
---
Shony Perera 2 more guitar chords found:
---
Last Played on 06/01/2023 16:29 | 8 times played.
Advertisement:
---