[Intro]
--------------------------------
| F | - | - | Bb |
| - | F | - | Dm |
| - | - | F | Gm |
| F | Dm| Bb| F |
| - | - | - | - |
[Chorus]
--------------------------------
F
Ruwata Ruwe sakura iwre
Bb
Hima watena
F
Sudu kanda dige
Eb Bb F
Pasal yana sudu kumariye //

[Inter]
--------------------------------
| F | - | - | Bb |
| - | F | - | Dm |
| - | - | F | Gm |
| F | Dm| Bb| F |

[Verse 1]
--------------------------------
F
Hima midena nagaree
Am A Bb
Ruwa pawa e rubarii
Gm C7
Cheeri mal pipi pawane
Bb F C C7 F
E gaman latha bala innawa
[Verse 2]
--------------------------------
F
Rathu muhude werale
Am A Bb
Yamu atha api wen nowi
Gm C7
Sithakin nowe ladune
Bb F C C7 F
Maa mage rate sada thani une
Save this song to your Favorite?
Sign up or login. It takes less than 20 seconds to create an account with us.
---
Ruwata Ruwe Lyrics:
---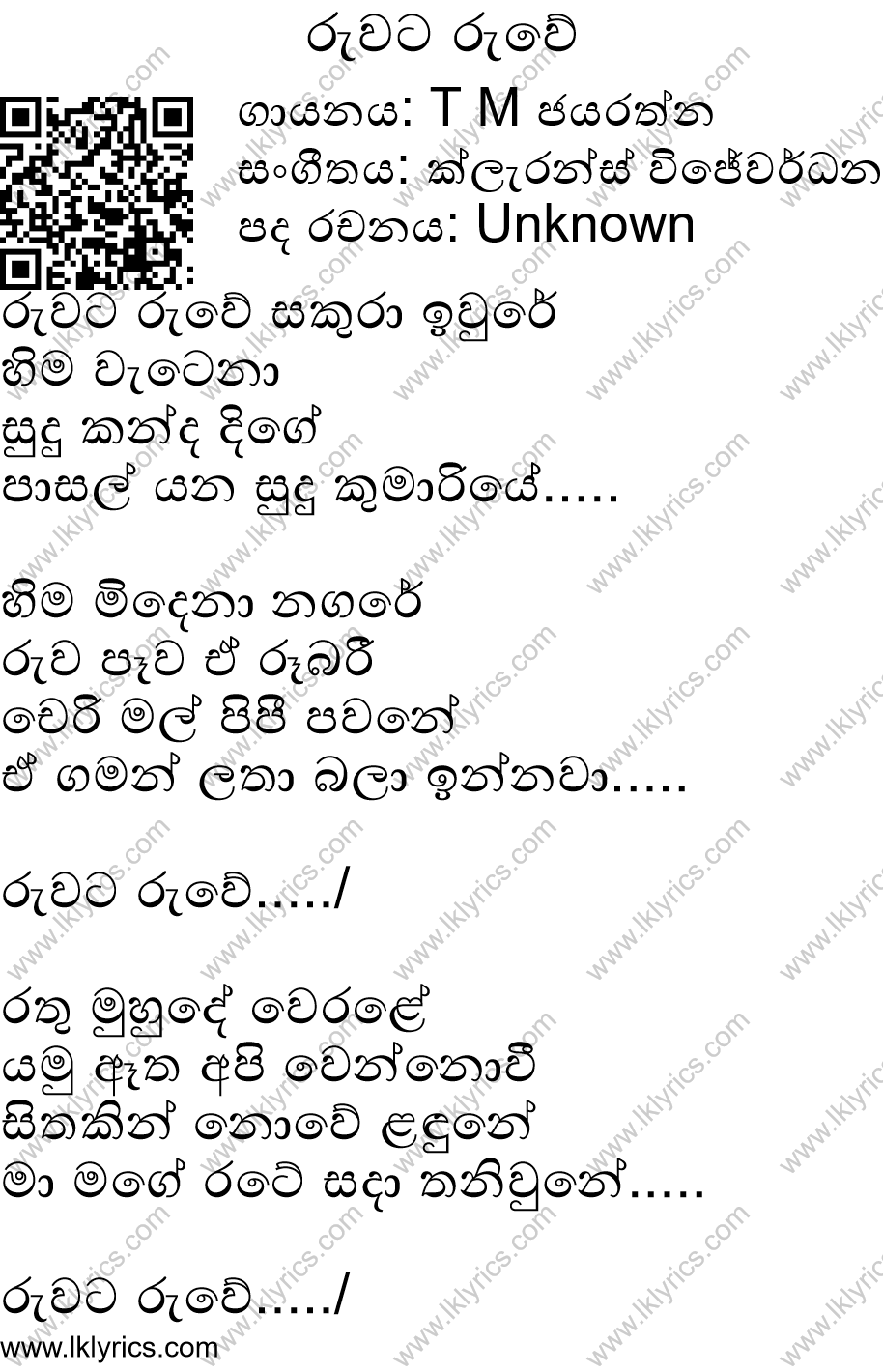 Image credits to the original owner. We index images automatically. If you see something wrong, please email us info@chordlanka.com.
---
T.M. Jayarathna 34 more guitar chords found:
---
Last Played on 01/10/2022 19:27 | 790 times played.
Advertisement:
---