Chord Diagrams for 'Sowin Bara Nuwan Widala' song:
[Intro]
----------
| | G | C | G |
| D| G | C | - |
| G| - | C | - |
| G| - | D7| - |
| G|

[Chorus]
----------
G
Sowin bara nuwan widala
D
Thawul pewasuwa handala
C
Yowun aadare ape
D G
Giye ai mese bindila //

[Verse 1]
----------
G D7
Hade janitha wu amawan sebe aadare ape
C D G
Musawan nisa anunge bindila giya
Em C G
Ahankaara wu sinawan ape aadare dawalu
D G
Lowe chodana nisa mewei wedana

[Verse 2]
----------
G D7
Sadathanika wu hengimen mage jeewithe pura
C D G
Ya wuna kiya sithu muth obe adare
Em C G
Kandulin kopul themalu mage aadare wahalu
D G
Obe chethana nisa sithe wedana
---
34 more songs by T.M. Jayarathna:
---
Sowin Bara Nuwan Widala Lyrics: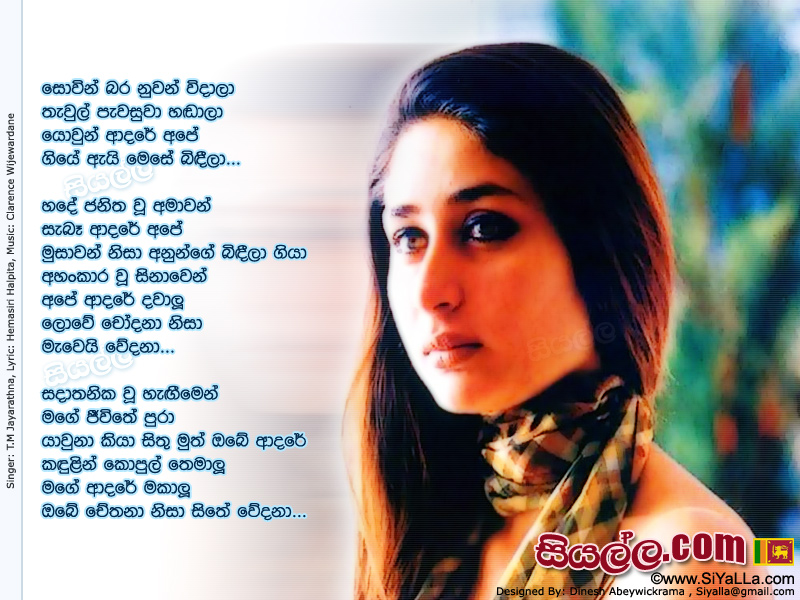 Image credits to the original owner. We index images automatically. If you see something wrong, please email us info@chordlanka.com.
---
---
Try our top 10 most played songs:
View More....
---
Try our top favorite songs: