[Chorus]
------------------------------------------
Dm A
Ape hangum walata edadee mohothak
Gm A Dm
Eda labaa ganimu tharamin wiyathak //
Dm Gm
Handapaane..... manda anduree......
Dm A Dm
Ath patalaa yamu aayee//
[Verse 1]
------------------------------------------
Dm Gm
Oba obe hewanallen midee..
A D
Mama mage hewanallen midee...//
G D
Awudin.. hemin rahasin mumuna
Dm A Dm
Handapaanee manda anuduree
Dm Gm
Handapaane..... manda anduree......
Dm A Dm
Ath patalaa yamu aayee//
[Verse 2]
------------------------------------------
Dm Gm
Hirakara hasarallen handum..
A D
Api hinehemu sapuraa pathum...//
G D
Mathu aathmaye hamuwena pathumin
Dm A Dm
Yamu wen wee himidiriyee........
Dm Gm
Handapaane..... manda anduree......
Dm A Dm
Ath patalaa yamu aayee//
Save this song to your Favorite?
Sign up or login. It takes less than 20 seconds to create an account with us.
---
Ape Hangumwalata Lyrics:
---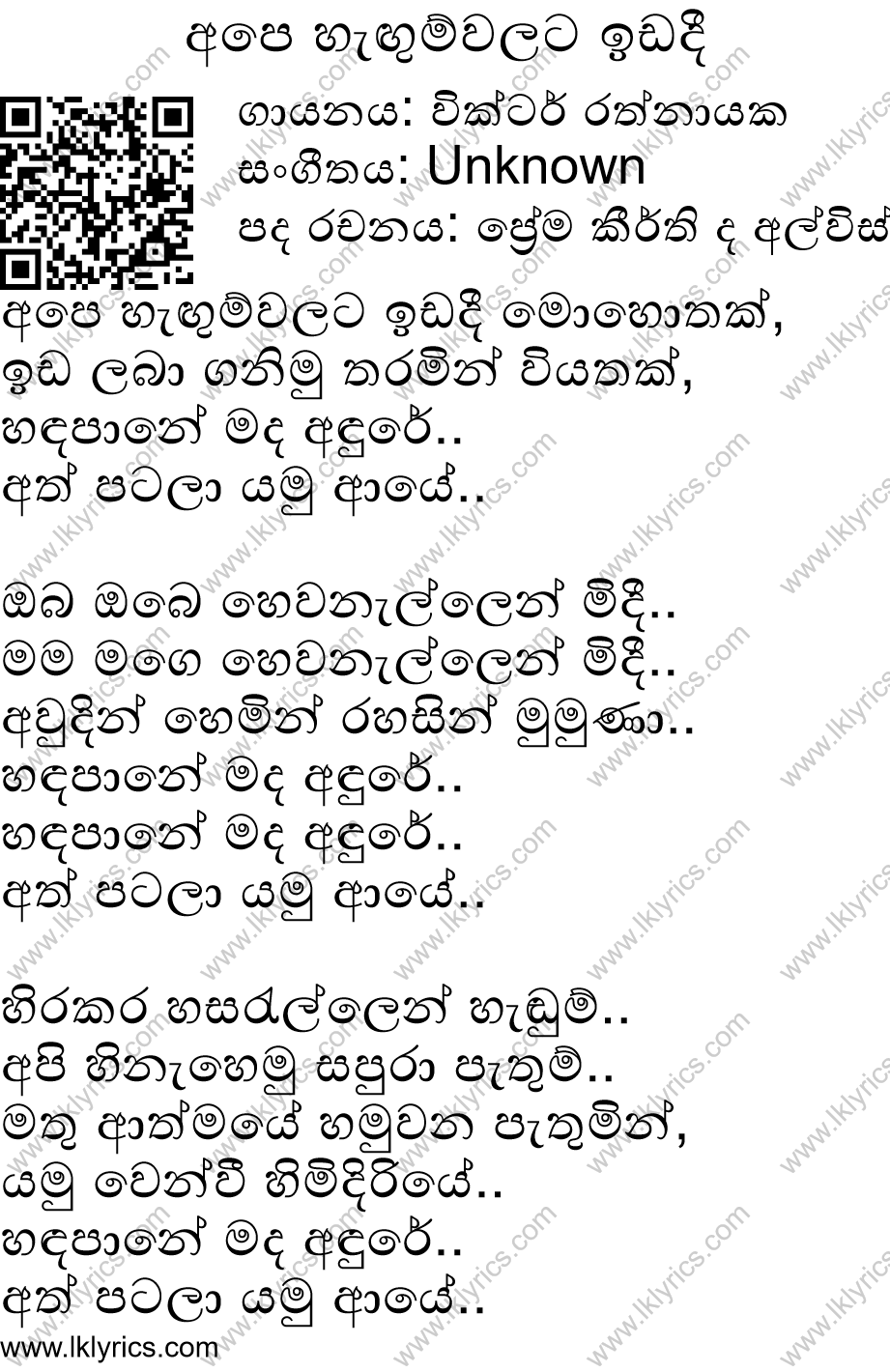 Image credits to the original owner. We index images automatically. If you see something wrong, please email us info@chordlanka.com.
---
Victor Rathnayake 36 more guitar chords found:
---
Last Played on 08/08/2022 10:45 | 3798 times played.
Advertisement:
---