[Verse 1]
----------------------------------------------
G
Ganga addara ma sihil senehe sanahee
G7 C
Hada santhaka wiya anuhas aasiri gee
D7 G
Oba hamuwe ma... muwa goluwuwa

Ganga addara pem kadawu rasa deahene
G7 C
Iha iddara pipi prarthana sihine
D7 G
Pibiduni aasha, gini silu sema...

[Chorus]
----------------------------------------------
G D
Malsara dunuwara lameada howala
G
iranam pawasa niwa
C D
Sansun wu tharamin nosealanawada
D7 G
baale beandi randam
C G
Oba ha aaye aale peahi thushara susum howa
D D7 G
Chamathkaaraye ranreka apa selena haden dutuwa

[Verse 2]
----------------------------------------------
G
Ganga addara pem kandawu rasa deahane
G7 C
Wana pushpitha wu supul sina wisire
D7 G
Ma hada rahase beaduna pahase

Ganga diya reali oba naadan kisi dawase
G7 C
Ganga diya suli meada unusum suwa gevase
D7 G
Oba ruwa chaya seange we paaya //
Save this song to your Favorite?
Sign up or login. It takes less than 20 seconds to create an account with us.
---
Ganga Addara Lyrics:
---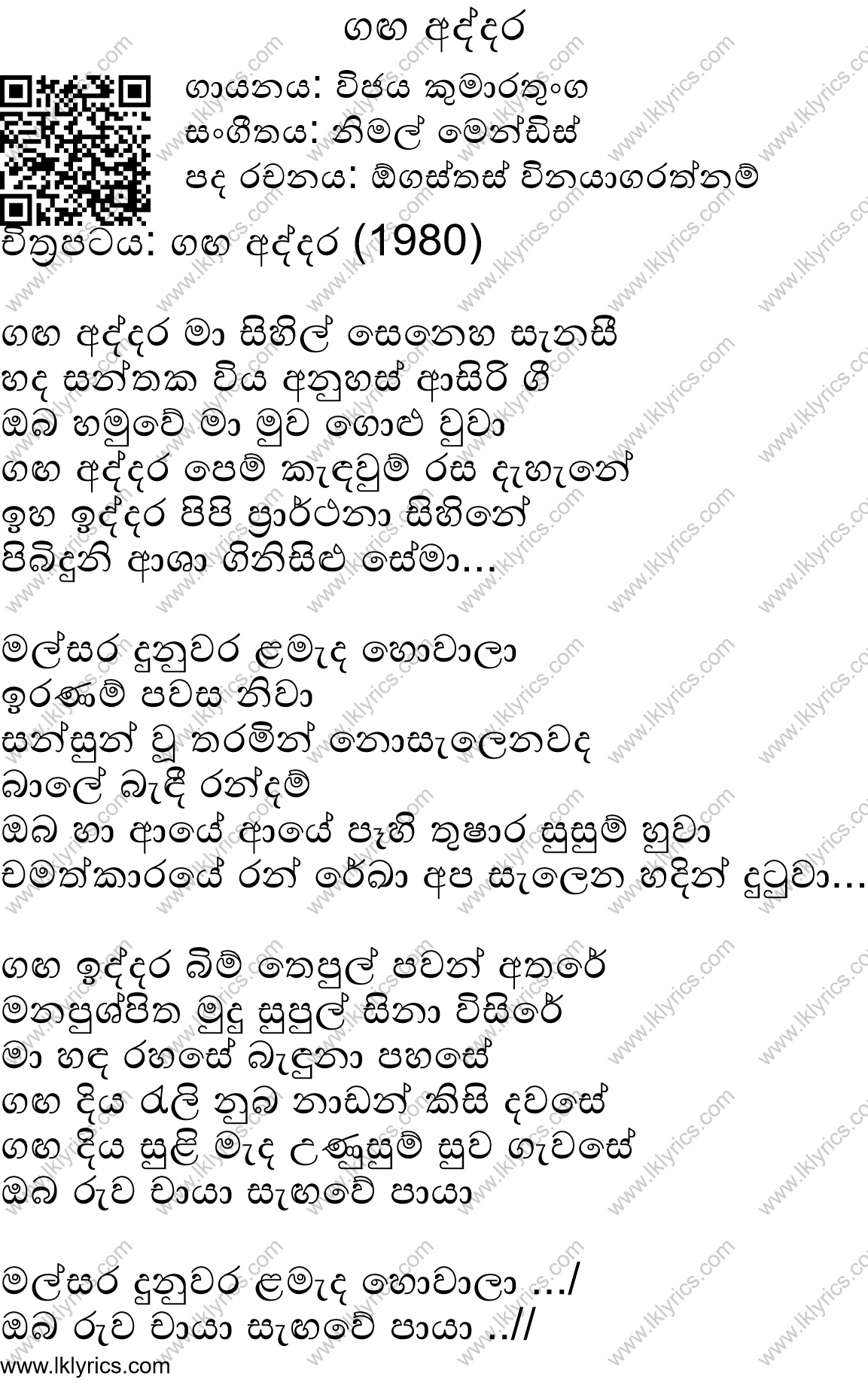 Image credits to the original owner. We index images automatically. If you see something wrong, please email us info@chordlanka.com.
---
Vijaya Kumarathunga 13 more guitar chords found:
---
Last Played on 08/08/2022 12:57 | 5901 times played.
Advertisement:
---