Chord Diagrams for 'Rangahala' song:
[Intro/Inter]
-----
| G | - | D | - |
| D7 | - | G | - |
|Bm/G7| - | C | - |
| G | D7| G | - |

[Chorus]
------
G D
Rangahala den etha ada andure
D7 G
Apa dedena pem pilisandare
G Bm C Am D
Anna balan kumariya maname ee
D7 G
Thani ve etha hima giri arane//

[Verse 1]
------
D G D A
Diriyen yuda kala oba dutu mohothe
A D A7 D
Mage hada geba thula wedunai a..le
D G D A
Nethimuth raja sepa hima giri arane
(F#m) D A7 D
Oba hera memata netha un sarane

[Verse 2]
------
G D
Avasan vasare sarasaviye
D7 G
Obe atha aragena hanthane
Bm C Am D
Kandu pamula mahaveli sevane ee
D7 G
Maname kumariya obada lande

[Verse 3]
------
D G D A
Hedi dedi sirurata a..laya benduna
D A7 D
Oba vetha asipatha dennata sithuna
D G D A
Maname kumarun marumuva veduna
(F#m) D A7 D
Den mama rejinaki hima giri arana
---
2 more songs by Wijerathne Warakagoda:
---
Rangahala Lyrics: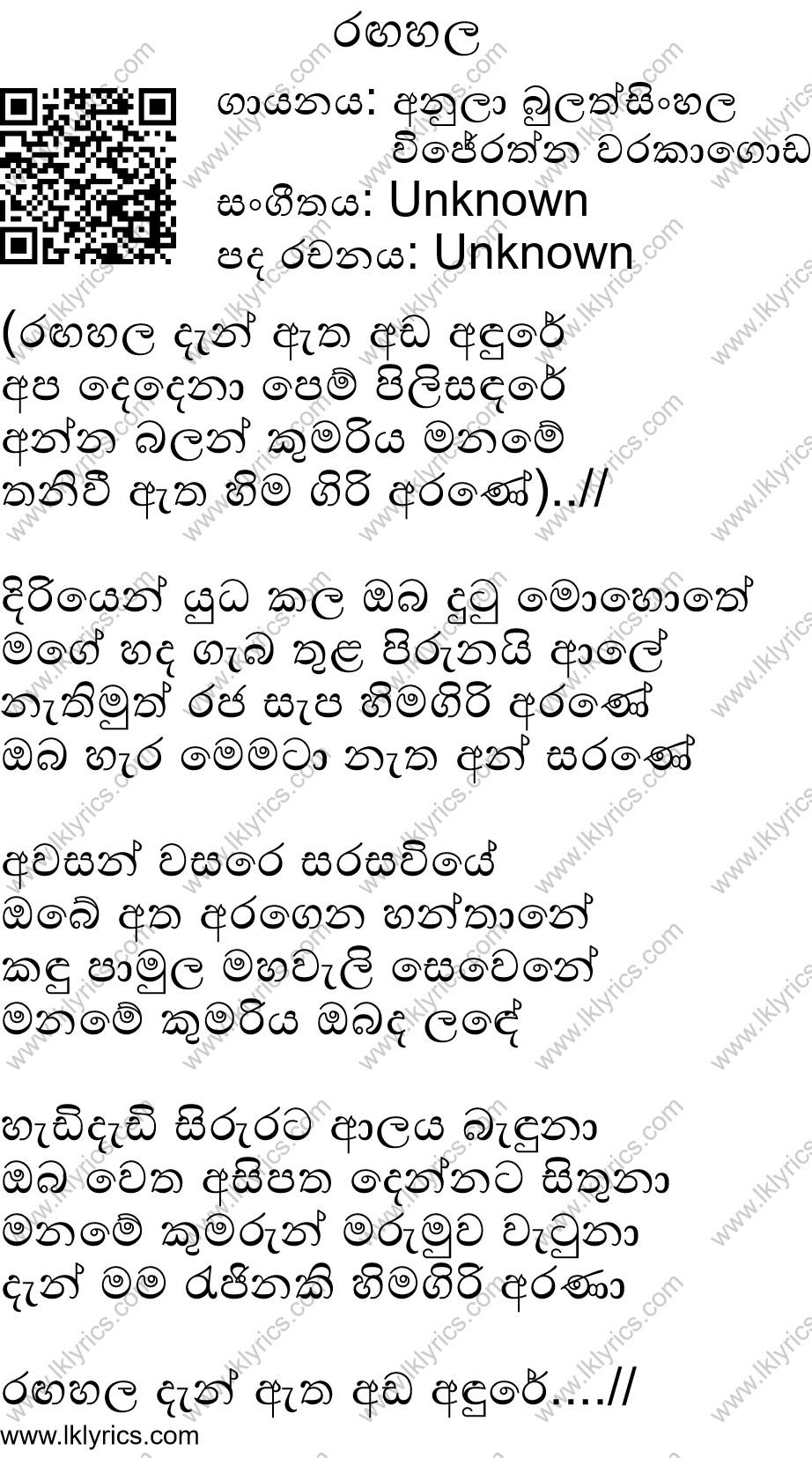 Image credits to the original owner. We index images automatically. If you see something wrong, please email us info@chordlanka.com.
---