[Chorus]
--------------------------------------------------
Am
Pita rata wisthara mewwa
                F          F7           G
Ahagena inna oyala, dewarak hithala balala
        E7         Am
Yannala hithala ohela..

[Inter]
--------------------------------------------------
| Am  | -  | -  | G   |
| -   | -  | -  | Am  |

[Verse 1]
--------------------------------------------------
Am                                C
Game thiyena idam gewal ugas thiyala
E                       E7         Am
Yanna hadanawa pita rata mille solaya
Am                                   G
silin pound dollar euro walata rewatila
              E         E7           Am
Dividenawa ne container athulata weela
Am                                    C
Bottuwala muhude maedde maruwa samaga pora
E                      E7           Am
Kandu palla kela medin gamana bayan kara
Am                             G
Wateena jiwithe ekka karana sellama
              E             E7           Am
Maga merunama waga kiyanne kawuda kiyan sanda

[Verse 2]
--------------------------------------------------
Am                                   C
Gedara towme handi gaane raum gahana sepa
E                       E7           Am              
Gannata baha mehe awoth athal hema wita
Am                                G
Jiwithe lassana kaale gewanna epa duka
               E           E7        Am
HIthala balala enna attha kiwwa hanikata
Am                               C
Uluppala Boru sobana kiyanawa me aya
E                      E7             Am
Aawama denaganna lebei windina mara duka
Am                                G
Ginumata ara wipakayata yanna epa rata
              E         E7             Am                 
Revatenna epa rata aeyo kiyana baila wata

Save this song to your Favorite?
Sign up or login. It takes less than 20 seconds to create an account with us.
---
Pitarata Wisthara Mewwa Lyrics:
---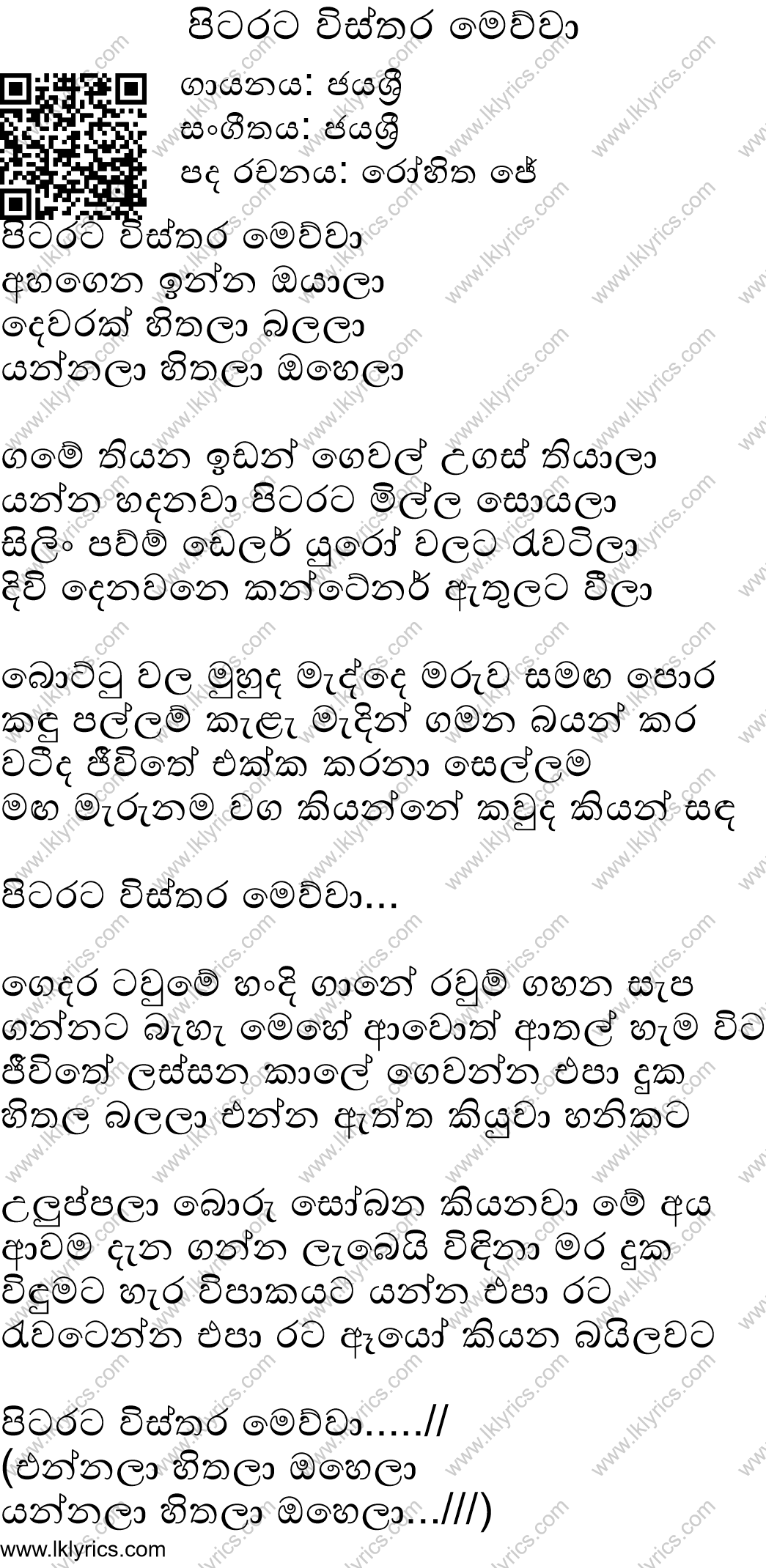 Image credits to the original owner. We index images automatically. If you see something wrong, please email us info@chordlanka.com.
---
JayaSri 13 more guitar chords found:
---
Last Played on 07/08/2022 20:13 | 3808 times played.
Advertisement:
---